Amanda offers private classes in songwriting, beginning guitar, and voice, from her home studio in Felton as well as Sylvan Music in Santa Cruz. She specializes in working with children, and also loves adults. Lessons are based on a model of student-led learning to instill confidence and joy through music.


Please contact for availability & more info.
Current students may pay for class sessions through paypal or credit card using the button below.







* THE ART OF SONG *

~ a summer music camp for kids 7-12

Everyone can write a song! This week-long camp will explore the joy of music through the creative act of songwriting. We will learn about lyrics, melody, chord progression, song structure, and collaboration. In groups, pairs, or on their own, students will write a song over the course of a week and share it in a final performance Friday evening at the Art Center. All levels of ability are welcome, from beginners to advanced. Bring your instrument (or just your self!) and come prepared to play games, make friends, be creative, and have fun!

@ The Mountains Art Center in Ben Lomond
9341 Mill Street, Ben Lomond, CA 95005

Mon July 31st - Fri August 4th | 12:30-3pm each day

to register visit: The Mountain Arts Center
$170 Member / $180 Non-Member

FB event: facebook.com/events/



* WOMB SONG ~ 3rd Mondays 7-8:30pm *
at The Pacific Cultural Center | 1307 Seabright Ave, Santa Cruz
www.wombsong.com

Womb Song is a a community-based singing circle open to all mothers, mothers-to-be, birth workers and women who love to sing. Led by Amanda West and Megan Jacobsmeyer. Prepare for labor through vocal toning and breathing exercises, strengthen your connection to your baby through sound, and discover a deeper sense of your own voice and power. Learn beautiful, simple songs and lullabies from around the world. No musical experience necessary! Drop ins welcome.

Connect with us on facebook to hear the latest Womb Song US
or write to us at: wombsong@gmail.com

$10 - $20 drop-in suggested donation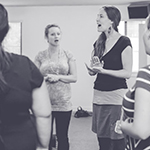 * COMMUNITY SINGING WORKSHOPS *

An old proverb says "if you can talk you can sing" and Amanda holds this to be true, believing that singing is part of our universal human birthright, playing an essential role in our experience of being alive. Her workshops run through basic warm-ups and vocal toning exercises, guiding participants to discover the joy to be found in simply making sound. Simple songs and chants from around the world are then taught call-and-response style, weaving together the mind, body and heart into an uplifting and community-strengthening experience. To schedule a workshop in your home or local community, please contact Amanda.




* OTHER CLASSES ~ past & future *

Please write to: if you are interested in hearing about future offerings

---> Afterschool Music classes San Lorenzo Valley, CA
---> Empowerment Through Songwriting for Teen Girls
---> Gateways School Summer Camp Santa Cruz, CA
---> Guitar & Songwriting, Bay Area Rock Camp for Girls Oakland, CA
---> Guitar Teach Program Watsonville, CA
---> Music at the Santa Cruz Mountains Art Center
---> Music for Sacred Pregnancy
---> Songwriting, Ladies Rock Camp Oakland, CA
---> The Singing Hour/Mothersong Boulder Creek, CA