A

manda West plays a variety of music festivals, concert halls, listening rooms, coffee houses, spiritual centers and house concerts through out the westernern coastal regions of the U.S. She will also perform in eastern regions of the U.S. and in Europe when the time is right. Sign her mailing list to be in the know...
UPCOMING SHOWS:
Saturday June 1st @ 6pm
@ KSCO Radio | 1080am, Santa Cruz, CA
Special guest on "The Way of Love" with MC and Rockelle. Listen live: www.itsthewayoflove.com/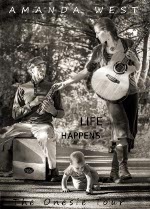 LIFE HAPPENS: The Onesie Summer Tour 2013
- - - - - - - - - - - - - - - - - - - - -



Sunday June 2nd @ 12pm


Pescadero Country Store | 1080am, Santa Cruz, CA


Summer Concert Series ~ bring your family for a sweet Sunday afternoon picnic on the lawn






Thursday June 6th @ 7:15pm


@ Breathe Yoga Studio | 14107-H Winchester Blvd, Los Gatos, CA
Returning again to play live music for a Vinyasa Flow class, with Christina Enneking of Happy Heart Yoga. Stretch, bend and open! www.hearthappyyoga.com | www.breathelosgatos.com




Saturday June 8th @ 7:30pm


@ Resource Center For Nonviolence | 612 Ocean Avenue, Santa Cruz, CA


Promoting peace and non-violence, this "Stop Gun Violence", benefit concert, will help fund a gun-buy-back program in Santa Cruz County. Moved by too many episodes of gun violence, Singer-Songwriter Nancy Cassidy has gathered a line up of favorite local artists to share songs during this evening, including Diane Patterson, Dayan Kai, Michael Gaither, Jayme Kelly Curtis, Laura Devine, Sharon Allen, Yours Truly, and more. ALL donations during the evening will go towards the cause of getting guns off the streets. Yes! | $10 - $20






Monday June 10th @ 7:30pm


Don Quixotes International Music Hall | 6275 Hwy 9 Felton, CA
A full evening of music for your heart, mind and soul - Amanda West and Round Mountain in a cozy, listening room designed for your delight. Robby and Char Rothchild, Round Mountain, are an incredible two-man world orchestra (and also happen to be two of the sweetest human beings on the plant!) This will be a very special night. Hope you can join us. Learn more: www.roundmountainmusic.com | tix $12/$15 Call the Don Quixotes ticket line to make your reservations: (831) 603-2294




Wednesday June 19th @ 4-6pm


Anacaortes Farmer's Market | 611 R Avenue, Anacortes, WA
A market especially for families, celebrating the start of summer. Yay! www.anacortesfarmersmarket.org




Tuesday June 25th @ 7pm


The Secret Garden | 425 NW 18th Ave Portland, OR
Delighted to be returning as the featured performer in this delightful summer music series at the Northwest Portland International Hostel and Guesthouse. BBQ, homebrewed beer and an open mic start off the evening. International family fun! www.nwportlandhostel.com




Thursday June 27th @ 3:30pm


Northwest Portland Farmer's Market | NW 19 & NW Everett Street, Portland, OR


Come get your fresh fruits & veggies!






Saturday June 29th @ 7pm


Fireworks | 1115 SE 3rd St, Corvallis, OR
Music to accompany your brick-over-baked pizzas. Yum. www.fireworkscorvallis.com




Sunday June 30th @ 3-5pm


Lithia Artisan's Market | Ashland, OR
Excited to return to offer afternoon songs for the artisans and vistors in this magical Shakespearean town of Southern Oregon. www.lithiaartisansmarket.com




- - - - - - - - - - - - - - - - - - - - -






Saturday July 20th @ 12pm


Garrahan Park Summer Concert Series | Boulder Creek, CA


Details TBA






Sunday July 21st @ 12pm


Pescadero Country Store | 1080am, Santa Cruz, CA


Summer Concert Series ~ bring your family for a sweet Sunday afternoon picnic on the lawn






Saturday August 24th @ 6pm


Private House Party | Cambria, CA




Sunday August 25th @ 1:30pm


Sculpterra Winery | 5015 Linne Rd, Paso Robles, CA
The featured act in Steve Key's Songwriter's At Play showcase! Always a wonderful line-up and a good time. Bring a picnic to enjoy with your wine among the sculptures and the beautiful grounds. www.songwritersatplay.com




Saturday August 31st @ eveningtime


NorCal Women's Herbal Symposium | Black Oak Ranch, Laytonville, CA
Yes I will be there with the wild and wise women sisters to frolic and learn, love, teach, rejuvinate, remember. Can't wait to sing with everyone at the Saturday evening open mic! www.womensherbalsymposium.org




Saturday September 21st


Private Event | Aptos, CA


I love weddings!






Saturday September 28th @ 11am


Santa Cruz Mountains Harvest Festival | Boulder Creek, CA


Details TBA






February 7th - 9th 2014


The Second Annual Valentine Songologues | Santa Cruz & other cities TBA


The Valentine Songologues were inspired by the V-Day movement, which was begun by Eve Ensler, creator of the Vagina Monologues. V-Day is a global movement to end violence against girls and women and is celebrated in February around Valentine's Day. The Valentines Songologues bring women singer-songwriters together to share their songs & stories in celebration of women's health, safety and empowerment. Plans for the 2014 events are in the works.




-----------------------------------------

PAST SHOWS:

Please see:

www.sonicbids.com/amandawest

. Go to CALENDAR, then click on PAST DATES.