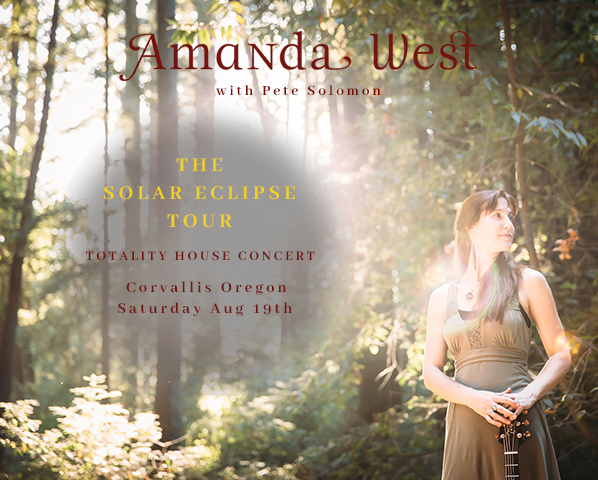 Click here for more information

to say hello please write to:


(for a sampling of the newsletters click HERE)
LATE SUMMER/FALL 2017 ~
As a total solar eclipse calls for a unique and cosmic alignment of celestial bodies, so too does this Solar Eclipse Tour up to Oregon in August... I will say more about this in coming newsletters, so be sure to join the mailing list if you haven't already.

In July we played one of our first live-streamed concerts, which was met with great success and we look forward to doing more in the future. These are accessible from anywhere in the world online, and offer possibilities beyond where cars can take us!

I am honored to continue my Womb Song work, supporting women through song, on their transition into motherhood, and I'm looking forward to the book, "The Music of Motherhood" coming out this December, featuring a chapter I wrote on the power of singing through pregnancy, birth and postpartum.

This fall will be focused on my private teaching, writing and recording new songs, and working on a new website. And so this road of life continues through learning, illness, birth, loss, joy, age, change, beauty and all the incredible fullness of the human experience!
May you keep your eyes, ears and heart open ~ the music is always all around us! Wishing you and yours a beautiful transition into fall.
------------------------------------------