Live Shows

|

CD Baby

|

iTunes

|

Amazon

| + your local record store

(just ask them)

OR,

mail order directly from Amanda West Music -

PO Box 7345 | Santa Cruz, CA 95061

send a check, payble to Amanda West Music

* The Way to the Water $15 full lenth album

* Truth, Love & Understanding $5 three song EP



+ $2 (shipping & handling) per order, to the above address

Amanda's music may be heard @

CD Baby

|

Sonicbids

|

Band Camp

|

Facebook

|

Last.fm

+ your favorite physical and online radio stations around the world

...

and if it's not there, request it!

and more:

Hear Amanda's live on-air interview at KUSP (88.9 Santa Cruz) in June 2008, from KUSP's "Live at Lunch Music Sessions Podcast": www.kusp.org/shows/live_music.html

-------------------------------

Projects Currently in Process:

- "Life Happens" EP, featuring songs off the upcoming albums

- Amanda West's sophomore solo album: "The Permission Tree"; exploring themes of self trust, strength, love, and universal connection

- Amanda West's third album exploring themes of family, history, and the things that bind us together

- A songwriter compilation of environmental songs for social change, produced by Amanda West Music

-------------------------------

Releases: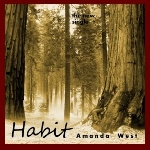 "Habit"
Released on New Year's Day 2012, "Habit" is a delightful song about changing our ways for the better. Probably one of the most fun and poppy songs West has written to date, it still carries her signature philosophical musings within. It also gives a nod to the incredible wisdom of nature. Unexpectedly, it is also becoming a hit among school children, and several teachers across California have already incorporated it into their curriculum! You can download it
HERE
, and share with friends, family, and anyone whom you think might enjoy a pick-me-up.
"Truth, Love & Understanding"
This three song EP was originally created during the summer of 2010 and released in September of the same year. The songs were written, recorded and produced in a loving collaboration between Amanda West & Pete Solomon. The textured melodies offer an exquisite blend of guitar, piano, banjo, vocals and percussion. The lyrical themes circle desire, commitment, and blissful love. The second track, "Before I Came Along", features the brothers of the Santa Fe based folk orchestra, Round Mountain: Char Rothschild on accordion and Robby Rothschild on Kora (West African harp). The third track "Togetherness" is inspired by Khalil Gibran's writings on marriage from his work, "The Prophet". This EP is a limited edition and until recently has only been available for purchase at Amanda's live shows.
It is now also available for digitial download through Bandcamp:
www.amandawest.bandcamp.com/album/truth-love-understanding
"The Way to the Water"
Amanda's first solo studio album, recorded in the Winter/Spring of 2007 at Bear Creek Studios in Bonny Doon, California, was released in February of 2008. The album features 11 original songs drawn from a decade of writing and performing. The recording was primarily a solo work, featuring two guest artists: Santa Cruz County Celtic musician,
David Brewer
, and SF Bay Area violin extraordinaire,
Anton Patzner
. Amanda did her own backing vocals, and sound engineer Pete Coates guided the recording, mixing, and mastering sessions. The result is a simple yet powerful full-length album drawing rave reviews from fans and press around the globe. CD's are available at all live shows, or may be ordered via mail order or online at CD Baby.
[click on a song title to see lyrics]
THE WAY TO THE WATER
Other Recording Projects and Collaborations:

"Rose" Soundtrack
2005
An original motion picture soundtrack. "Rose" is the story of a little boy who falls in love with a ghost... Produced and directed by Hoku Uchiyama, "Rose" has been touring the film festival circuit since its release, winning numerous awards and attention from critics. Amanda wrote the the original Rose Theme, upon which the score was based. The fully orchestrated score was composed and recorded by Anton Patzner, drawing on the talents of many other studio musicians to create the beautiful, melancholy, backwoods tone. Go to
www.rosethemovie.com
to learn more.

The Ghost of Progress
2004
"Letters of Lost Hope" A recording project of songs telling stories of an American family's struggles and history. Amanda's vocals are on several of the tracks. Written and Produced by Roland Sonneville.

My People Pray By Starlight
2003
Ambient, emotional, experimental music. Produced and distributed by Burning Daises records. Members: Amanda, Alex, Angel, Craig, Justin & Roland.
Walpurgis Night 1997 - 2003
Amanda's first band which played only her original compositions. Walpurgis Night performed in schools, coffee houses, and at various small festivals around the SF Bay Area, including street fairs, and events at UC Santa Cruz. In Spring 2003 they took a week and a half long self-organized tour with the band, The Technicolor Sound, into Northern California, Oregon, and Washington, performing at coffee shops, schools and radio stations. Their recordings include:
Self Tittled EP
2003
All songs written by Amanda Mehl. Amanda Mehl (lead vocals and rhythm guitar) Anton Patzner (violin) Alana King (stand-up bass and back-up vocals) Alex Feldman (drums).

Live From Amanda's Living Room
2000
All songs written by Amanda Mehl, except "Resurrecting the War Chant", "Waiting", "Last First Kiss" and "Tears for the Storm", words by Tamara Failor, music by Amanda Mehl. Amanda Mehl (lead vocals and rhythm guitar) Tamara Failor (bass) Casey Jackson (drums) Anton Patzner (violin) Leah Steadman (back-up vocals)